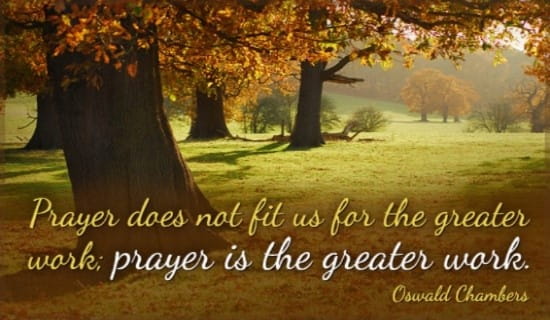 Hi everyone!
I am always moved whenever I read the quote above. So often I can get caught up into that thinking that tells me that the work of a missionary or the work of a ministry is measured by what we do. The lessons we deliver, the sermons we write, the events we plan, it can all become more important than the greater work we have on our hands. The greater and more delightful work of prayer.
We are so blessed at Christians in Schools Trust to have some real prayer warriors among our supporters. These are people who inspire us with their devotion and commitment to praying. They continue to model for us the humble hearts that are needed to achieve the greater work of praying. It's a great work that we will be giving time and attention to this weekend, at our prayer meeting on Saturday morning. This Saturday we will be hosted by Bramhall URC Church and meeting there at 8:30. Breakfast will follow at 9:30, and our time will be lead by Bramhall URC church, but our secondary school worker, Andy, will also being contributing to our time. He has been spending a lot of time in Bramhall High School at the moment, and so has a lot of wonderful news about our work in this area! Come along for more details.
We have so much to pray into this weekend! We have been blessed by many open doors, but we will also pray into those situations where we are experiencing resistance. We will pray for God's guidance and that his voice will be speaking to us. We are excited to hear from him, and to also hear from our supporters as they share words of wisdom and prayers of insight. As always, we would be blessed by your presence.
We hope to see you this weekend,
Blessings,
Emma